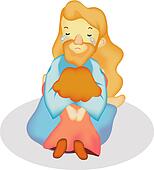 I think I'm having a miscarriage. I got what I thought was my period yesterday, but I've been curled up in pain most of the time since then. Very heavy, lots of "tissue". Similar to the time I had a confirmed miscarriage. But I never got a positive test.
Miscarriages are
awful
. Aside from the very real emotional effects, the physical experience is painful and lonely. It's like a very long, sadly
un
-supported labor that doesn't have a happy ending.